My 30+ years of experience in planning and executing hundreds of polar expeditions has given me valuable skills, knowledge and insights.


As a client you can tap into these resources to give your project both a kick-start into action and a structured progression of achievable objectives.

My polar career includes:
❄️ 4 new ski routes to the South Pole
❄️ North Pole ski expeditions, from Russia, to Canada and multiple last degree treks
❄️ +30 North and South Pole treks and expeditions
❄️ 2 Greenland crossings
❄️ ski expeditions in Iceland, Ellesmere Island, Patagonia, Queen Maud Land, Antarctic Peninsula
❄️ manhauling, snowkiting, fat-biking, air, ground and seaborne travel
❄️ annual guiding in Svalbard
❄️ safety equipment and procedures for polar bears, glacier travel, avalanche, sea ice travel

❄️ entered Antarctica from Punta Arenas, Ushuaia, Cape Town, Hobart and Christchurch, by aircraft, ice breaker and yacht
❄️ familiarity with Arctic gateways - Longyearbyen, Resolute, Khatanga, Kangerlussuaq, Tasiilaq
❄️ working with professional photographers and film production companies

❄️ working with all ages - our youngest is 4, our oldest 78
❄️ multinational - we have worked with more than 30 different nationals
❄️ respect for all gender communities
❄️ NGO and government organisations
❄️ SOLAS and Polar Code
❄️ military training

❄️ co-founder and president of the International Polar Guides Association (IPGA)
❄️ IPGA Polar Expedition Guide
❄️ co-creator of the Polar Expeditions Classification Scheme (PECS)
❄️ former polar guide for Antarctic Logistics and Expeditions (ALE), Australian Antarctic Division, Greenpeace, Walking With The Wounded
❄️ expertise with air and logistics providers - ALE, ALCI, White Desert, Ultima/ALCI, Vicaar, Barneo AG, Kenn Borek
❄️ working with Guinness World Records
Select from four levels of service.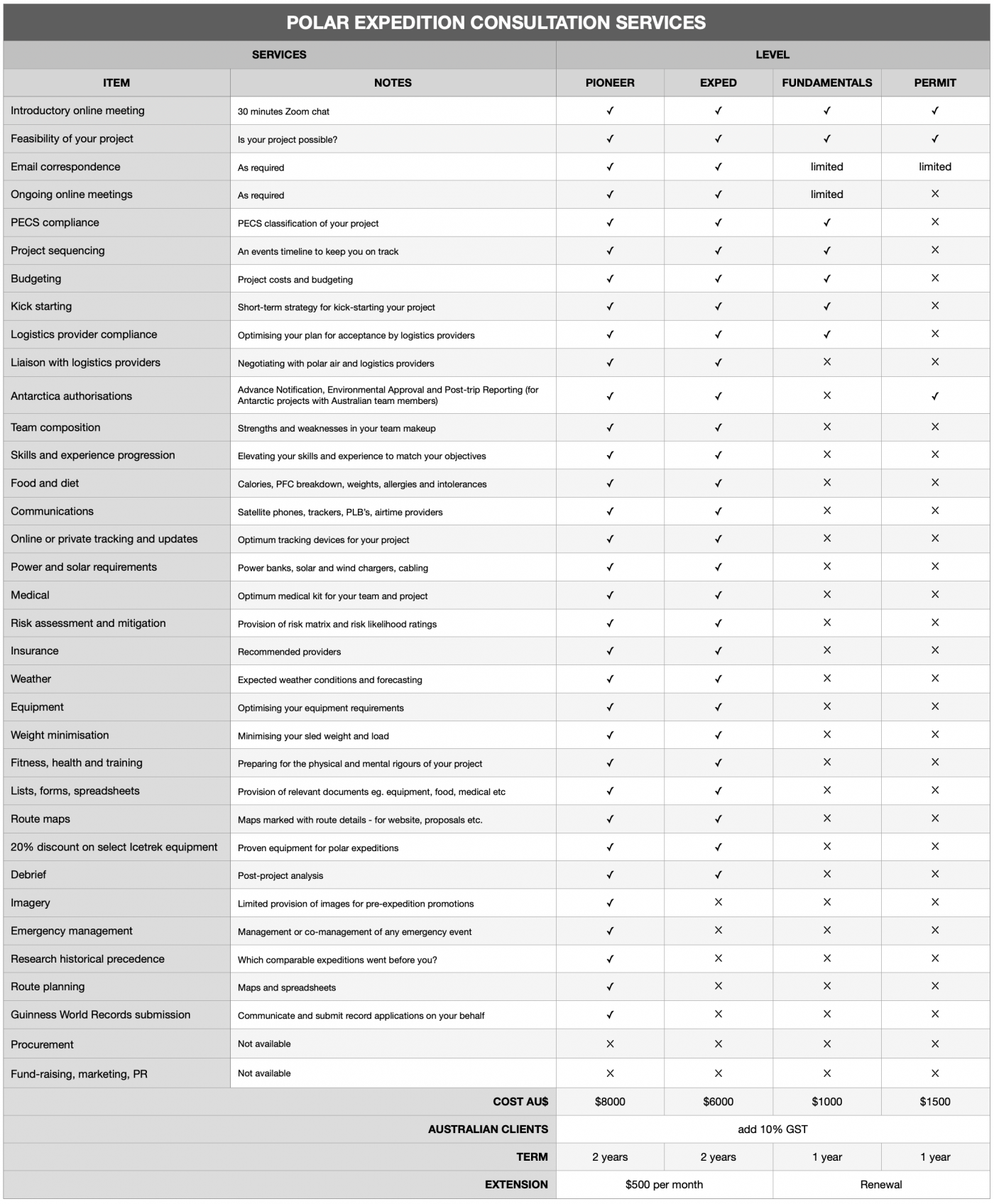 How to proceed with with your polar expedition consultation service.
Submit the following form. This is not a commitment to proceed with my services, it's just an indication of whether your project is feasible.
I will respond with an initial feasibility comment and a proposal. You can choose to proceed or not.
If you choose to proceed, read the agreement and waiver documents, sign and return to me. Let's go!
If you require an Environmental Impact Assessment Permit for Antarctica you will be required to complete an additional expedition questionnaire